Attention Parents!
Looking for music both you and your kids
will love? You've come to the right place!
Download Fern's Award Winning Single,
SANTA'S REINDEER, for FREE!
Just enter your NAME AND EMAIL
address in the box with the chipmunk to
get the FREE SINGLE.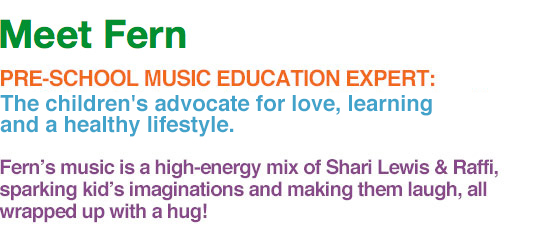 Here's what others are
saying about Fern's CDs
and Book:





GREAT MUSIC FOR KIDS! "Kids! Christmas! Fern!" ~ Jon
Fern's music is the kind of 'made for children' music that should be more widely available! Here is a great review from Matthew Warnock, contributor to allaboutjazz.com about the song "Santa's Reindeer": A wonderfully arranged spoken-word/sung children's holiday song, "Santa's Reindeer" features a soft-spoken vocal line by Fern, as well as easy to listen to accompaniment. When combined, the vocal line and 6/8 instrumental performance combine to produce an entertaining song that will appeal to children of all ages, and not get on their parent's nerves as some kid's songs can, especially holiday songs. Makes the perfect addition to any parent's library of family, holiday music.





  Fern Is Great For Kids! "Kids! Off To Dreamland With Fern!" ~ Nick
Fern is great for kids! I have a niece that would go crazy over her music. The first time I listened to her songs, I knew I had to buy it for the kids in my family. She has a happy but calming tone to her voice that makes me smile!





  Rockrhydin—Children's Christmas Picture Book ~ Marc Erwin Braun
I purchased this book last Christmas for my cousin who is a proud mom of three little ones. She just loved the story, the incredibly beautiful drawings and the theme song. Especially when kids are too young to read the book themselves they love to look at the illustrations and listen to the song. This year I have ordered two more books for my co-workers who both have little ones…and so this book keeps on giving and hopefully one day it will become a classic…it deserves it. This is not your ordinary children's picture book!